Who are we ?
LEADING DISTRIBUTORS OF AIR CONDITIONING AND REFRIGERATION TOOLS AND COMPONENTS
With their ECOCLIM brand and network of specialists, SNDC has managed to position itself in just a few years as the leading supplier of tools and components for air conditioning systems for a range of vehicles (agricultural machinery, construction machinery, industrial vehicles, road-laying machinery, military vehicles, public transport, cars, etc.)
ECOCLIM - A NETWORK OF PROFESSIONALS
SNDC is a renowned air conditioning specialist, distributing its brand and sharing its expertise with the support of a network of experts in the repair and maintenance of vehicle air conditioning systems.

Click here to find out more about our network.

SNDC est un spécialiste reconnu de l'air conditionné, il s'appuie sur son réseau de spécialistes de la réparation et de l'entretien des climatisations véhicules pour distribuer sa marque et son savoir-faire.

Click here to find out more about our network.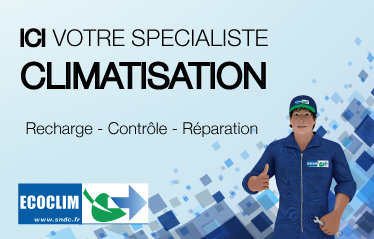 SNDC – EQUIPMENT DESIGNER AND MANUFACTURER
More than just a distributor, SNDC also boasts a research department, test centre and production unit and offers a hotline and after-sales service. Customer satisfaction is SNDC's top priority.

At their facilities near Toulouse, SNDC designs and manufactures equipment for handling refrigerant fluids, such as control stations and units.

Click here to discover our range of stations and units.
SNDC is a certified assessment body and offers training at their site in Labarthe-sur-Lèze, near Toulouse.

Here, a space of 90 m2 is reserved solely for training. Through the use of a range of teaching methods, audio-visuals, a temperature test room and a fully equipped workshop, learners are provided everything they need to receive the best possible training.

Click here to find out more about our training.
SNDC – INTEGRATOR OF THERMAL EQUIPMENT FOR PASSENGER CABINS
SNDC also develops and assembles HVAC equipment for ventilation, air conditioning, heating, pressurisation and filtration for manufacturers of vehicles and cabins destined for agriculture, civil engineering, industrial machinery and utilities.

With more than 35 years of history and extensive experience from their many achievements, SNDC offers complete solutions and a range of products and services to support customers in their HVAC projects.

With customer satisfaction a top priority, SNDC is able to call on their skills and expertise in design, engineering, testing, production and logistics to ensure compliance with regulatory requirements and their own quality assurance standards.

Click here to find out more about our tailor-made solutions.